We may earn money or products from the companies mentioned in this post.
Paying for experiences
So, why do I share this story? Looking back now, I realize how pivotal this experience, and other similar ones, have been for my overall well-being and happiness. The cost of the trip, though significant, pales in comparison to the average yearly expenses associated with owning a vehicle—around $12,000 in Canada, according to Ratehub.ca (Ratehub and MoneySense are both owned by Ratehub Inc.). And most Canadians spend this amount without much consideration or reflection on how it impacts their well-being. I'm not suggesting we stop using vehicles. It's more about the amounts of money we spend on them. Does owning a $40,000 or $50,000 car give more life satisfaction, say, compared to one worth $15,000 or $25,000 that's reliable and safe? Author Ramit Sethi writes in his book I Will Teach You to Be Rich (Workman, 2019): "Spend extravagantly on the things you love and cut costs mercilessly on the things you don't."
My New Orleans adventure, including travel, tickets and accommodations, totalled approximately $2,000 per person.
When I weigh this cost against the research of Amit Kumar, assistant professor of marketing and psychology at the University of Texas at Austin, which suggests that spending money on experiences rather than on possessions creates more enduring satisfaction, the significance becomes crystal clear. I know it seems counterintuitive, but the research is so conclusive: experiences matter. Of course, we need to take care of our basic needs, but spending discretionary income on experiences increases our well-being more than acquiring material possessions. This makes me pause and reflect on how I wish to spend my discretionary income. While I acknowledge the necessity of buying material possessions, when I reflect on the most cherished moments of my life, they often revolve around experiences.
5 reasons why spending on experiences increased my happiness
Spending on experiences transcends time. Kumar's research shows that spending on experiences can last beyond the experience itself. His concepts of "anticipatory utility, experience utility, and recall utility" perfectly capture the lasting benefits of experiential consumption.
Anticipatory utility: Before an experience, we're flooded with positive emotions like excitement and joy as we discuss and imagine the upcoming event. Which song will the band open with? How long will the concert be? In contrast, Kumar found that waiting for material purchases is often accompanied by feelings of anxiety and impatience, leading to a decrease in our overall satisfaction (acknowledging there are always exceptions).
Experience utility: During the concert, as I swayed to Bruce's music with my family, my mind was fully immersed in the moment. No distractions, just pure presence.
Recall utility: Experiences allow us to relive moments, evoking similar emotions. Sharing these memories with others further fans the flames of positive feelings. Even 10 and 20 years later.
Positive social connections: Research consistently shows that strong social bonds are integral to lasting happiness. Experiences like concerts offer rich opportunities to forge these connections, enhancing our mental, physical and overall well-being.
Enhanced sense of self: Kumar's work underscores that experiences shape our identity more than material possessions. Our life's narrative is a tapestry of experiences, woven together to define who we are. Investing in experiences is one of the key elements in writing this A Rich Life column.
Regrets take different forms: Kumar's insights highlight how our regrets differ when it comes to material versus experiential purchases. Material purchases often bring "regret of action" (buyer's remorse) while experiential regrets lean toward "regrets of inaction." 
Experiences increase our gratitude: Kumar's research also shows that we are more grateful when we participate in experiences than when we gain material purchases. Feeling grateful is associated with many positive outcomes like gratitude and prosocial behaviours. People treat others better when they practice gratitude.
What I took with me from the concert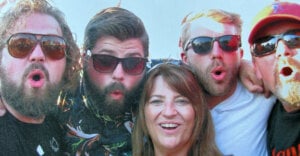 In essence, seeing Springsteen in New Orleans is an example of how prioritizing experiences over material items is good. 
Does this mean we need to all go out and recklessly spend our money on lavish experiences? No. We still must be responsible and diligent with our money. I'm not suggesting a YOLO approach to spending all your money on experiences. Instead, I'm saying it's an opportunity to reflect on how you are currently spending your money. I'm inviting you to consider the financial trade-offs and to learn how to balance them. 
Could you reallocate some of the money spent on material purchases toward experiences as a means to derive more enduring satisfaction? Of course. Money is about decisions.
We spend a lifetime making decisions on how to spend our money. For most of us, we aspire to lead a good life, where, at the end, we can proudly say, "I did it—I lived a good life." Often we get comfortable spending our money on things we think we should be buying. Perhaps Kumar's research can help you recognize that spending money on experiences matters. They matter significantly, considering that our future selves are an accumulation of the experiences we have had in our lives. Personally, I apply Kumar's research and insights to my discretionary income, with the hope that when I reach the end of my life, I can say, "I did it. I lived a good life."
If you are interested in hearing from Kumar himself, check out episode #150 from The Most Hated F-Word Podcast, where I interview him.